Tuesday was St Patrick's Day… well duh… and I spent it not doing the Irish things of my heritage. I went to work. And then I went home. After work I hung out with the roommate. She made guacamole (!!) and we just had some drinks while watching Leap Year. Have a look at the review I wrote about Leap Year when it originally came out. 
Leap Year… when it isn't one…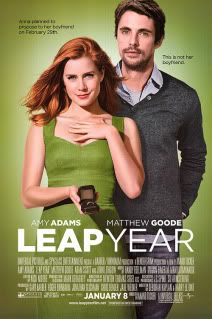 This was their first mistake, releasing a movie about Leap Year when it wasn't a leap year. Their second was hiring Matthew Goode to play the lead Irish man, because I'm sure I spent more time watching just him then paying attention to the story line, which is very basic. When Anna Brady's (played by my favourite Amy Adams) boyfriend does not propose to her after four years, and after hearing an old family myth her father tells her, she heads off to Dublin to propose to him on Leap Day.  It doesn't go smoothly for her, and she ends up in this tiny little town off the cost of Cork. After managing to convince the owner of the Pub/Taxi company/Inn to let her stay the night, and get her to Dublin she tried her hardest to get to Dublin before Leap Day.
I love Ireland! I went there in 2008 and I fully enjoyed seeing the country side again. The cliffs , they are not the Cliffs of Moher, most of the Ireland is on cliffs, and the Cliffs of Moher have a rock wall built up around the side preventing tourists from walking off the edge, and are covered in grass. They do show the Wicklow National Park, which I didn't get a chance to see, it was raining the day I went to Wicklow. The ending was filmed in Dublin, at the Temple Bar, which is not a bar, but a street area of Dublin. Oh and they talk about the Claddagh Rings, which originate from Galaway… and yes I did buy one there.
Back to the movie, it was really cute, predictable, but romantic. Leap Year was funny, there was a bit of wit and quick thinking, good writing and directed. Both Adams and Goode were on the mark for most of their come-backs, and over all well acted by everyone.
So how was your St Paddy's Day?